Discover more from The Cairo Dispatch
Travel writing for thinkers, daydreamers, and adventurers. Come for the recipes, stay for the stories. Stoke your wanderlust, feed your soul, and leave feeling a kinship with new cultures.
An Art Show at the Pyramids Reframed My Thinking and My Photos
what convinced me to stop cutting people out of pictures
Hi friends, and happy Tuesday.
Thank you all so much for your kindness following last week's newsletter. Your wise words in the comments section helped me claw my way back to sanity. I'd like to share some of that wisdom here in case anyone needs to hear it. Trilety of I won't keep you said "put your full attention to the life you are living now—it is not as fruitless as you believe in your dark moments." And Jolene of Time Travel Kitchen dropped a line that is my mantra this week: "you don't have to solve everything today." Amen to that.
Things are looking brighter after a weekend of reflection and consuming lots of art. On Saturday, Nick and I stopped by Cairopolitan, one of our favorite galleries, to see Nora Zeid's illustrations of everyday life in Cairo. I encourage you to check them out here. They capture the city's energy so well.
We also saw an incredible installation at the Pyramids—more on that below, but first, a question for you! I am looking for recommendations for Vienna and Portugal. Have you been to either? Where should I go? 
Have a wonderful rest of your week,
Sam
---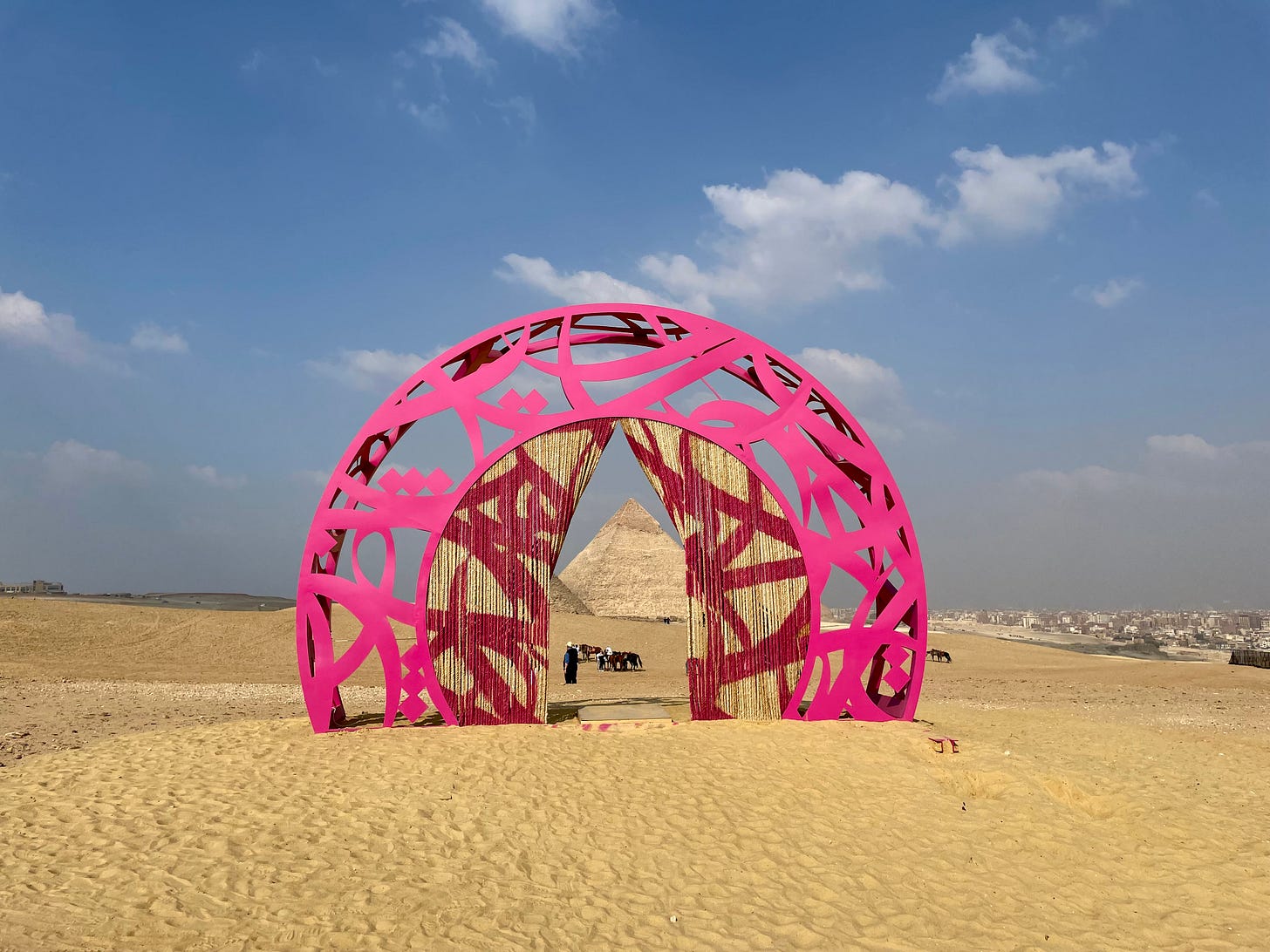 I like my photos free of people unless people are my subject. I take landscapes, mostly, and random humans create visual mess, jumbles of incongruous color and motion and expression that spoil the scenery. This neurosis is especially problematic when I travel, as one is never alone at famous landmarks. I am doomed to spend much of my sightseeing time in search of quiet corners, where I slink off to shoot from angles I can manipulate into emptiness.
You can imagine my annoyance, then, at the teenagers swarming Art d'Egypte, a modern sculpture exhibition at the Pyramids of Giza. The crowd was expected—Art d'Egypte is one of the events of the year in the Middle East art world—but it hampered my vision for photos. I wanted a barren desert to bring out the contrast between the avant-garde and the ancient. A shroud of pollution hung heavy on the horizon, and gusts of wind whipped hair into my eyes. I struggled to see the viewfinder on my phone screen, which was dim even at full brightness against the harsh November sun, making it even harder to eliminate any clutter.
As I walked from installation to installation and tried to compose clean images, a middle-aged Egyptian woman trailed me. She wore an elegant red jacket and tortoiseshell sunglasses and muttered under her breath, glaring at people who took more than their fair share of time posing for photos with the sculptures; we didn't speak, but we were kindred spirits.
I overheard the woman complain to a docent that some visitors weren't respecting the artwork—a comment targeted at a group of boys and girls who were touching and sitting on the structures for Instagram shots. "It's supposed to be interactive," the docent responded. It seemed both my friend and I had been missing the point. The exhibition wasn't about the artwork itself. It was an opportunity for people to engage with the past in a novel way, to explore it with fresh eyes through new shapes and colors.
I took another look at the teenagers, preening for their TikToks and Instagrams, and what I saw was no longer a clump of untidiness obstructing my photos. What I saw was a group of young people connecting with their heritage—the ancient history that forms such a crucial part of their national identity—in a way that made sense to them. The beauty and interest of Art d'Egypte was in their presence. From that moment, I started snapping pictures with people in the frame. Without them, the images would be incomplete.
---
elsewhere
cattywompus
One of my favorite things about Cairo is the abundance of street cats and dogs. When I walk in my neighborhood, one often steps into my path and won't let me leave until I've paid the toll, i.e. a head scratch or a belly rub. I had never met this particular kitty before, but she made herself right at home on my lap in a restaurant. I repeat: I do not know this cat. She just walked up to me and decided I was the comfiest seat in the house. I was glued to my chair for the next hour, because you simply don't disturb cute animals in the middle of a nap—it's the law.
See you next Tuesday!